REDWOOD PARK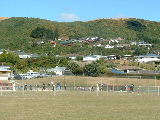 Above: softball at Redwood Park. As well as hosting the Tawa Softball Club,
Redwood Park (4.4 hectares and next to Redwood School) is home to the Tawa Soccer Club.
To see a photo of soccer at Redwood Park
(featured on 'Pics of Tawa from week to week', May 2004), click here.