This community newsletter is compiled every month or so on behalf of tawalink.com, Tawa's community website since 2002.

FOR TAWA'S SAKE, PLEASE VOTE FOR THE COMMUNITY BOARD

Your voting papers for the local body elections must be in the hands of the returning officer by midday this Saturday.

If you value having a Community Board representing the Tawa community, please do vote! The existence of the Board will be reviewed again one of these days. If the Council was to see that two-thirds of Tawa people had voted for their Community Board, it would go a long way towards showing them that local people do value their Board. As it stands, only 35-40% of Wellington voters are likely to participate in the current local body elections.

Most of us know very little about any of the candidates standing for the Regional Council or District Health Board - which might go some way to explaining (but not entirely excusing) "limited voter interest", but most Tawa people should know one or more of the following candidates standing for the Community Board. Your vote is important - please use it!

Full details at www.wellington.govt.nz/haveyoursay/elections/elections-candidates.html


David Darroch Graeme Hansen Richard Herbert Margaret Lucas Chris Reading Dennis Sharman Malcolm Sparrow Alistair Sutton Robert Tredger



THE EMERGENCY PREPAREDNESS SESSION THAT WAS
Around 120 local people turned up at the Linden Social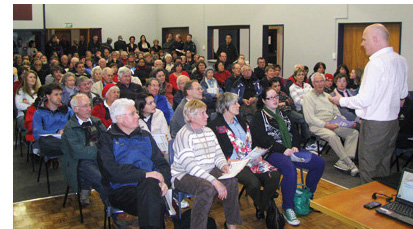 Centre a couple of weeks back to learn tips to help their family to prepare for and survive an emergency of whatever sort, as well as to learn about community preparedness.

Fred Mecoy of Wellington Emergency Management pointed out that there is no Civil Defence army ready to come to our rescue in the event of a civil emergency. It's up to us to make preparations ourselves!

For those who weren't there, copies of the very useful booklet "It's Easy: Get Prepared for an Emergency" are currently available form the Library and the Community Centre, or see: www.gw.govt.nz/wellington-region-civil-defence-emergency-management-group-site. It includes tips like ensuring we all have plenty of water stored (which, of course, we already do!), keeping a corded phone on hand, knowing who our neighbours are, etc.

Civil Defence Centres in the Tawa area:
- Linden School
- Greenacres School
- Tawa School
- Redwood School
- Grenada North Park Pavilion

TAWA WALKWAY APPROVED .
The New Zealand Transport Agency has officially approved the inclusion of a project for a walkway through Tawa as part of the National Land Transport Programme (NLTP).

This significant decision will enable work to begin on the first of our strategic walking and cycling routes. The project proposes to create a walkway/cycleway along the length of Tawa from Takapu Road station at the south along to Keneperu station at the north. The route involves three new bridges over the stream and the construction of a new level rail crossing connecting Tawa College with the pool.

Prior to commencing community engagement in October/November on the details of the project, negotiations will need to be completed with Kiwi Rail on the use of their land corridor. If the project proposal is acceptable to them, work is expected to begin on the $3.5M project early next year and expected to take 6-7 years to complete. Community engagement will however be delayed if there are problems resulting from the negotiations with Kiwi Rail. Here's hoping that doesn't happen!

WHEELIE BINS IN TAWA
There may have been some confusion following a recent survey circulated by a certain list MP regarding the implementation of City Council wheelie bins in Tawa to replace the current green bins.

A trial is being run in various streets around the city. For Tawa this includes some addresses (but not all) in Main Road, Bell Street, Redwood Avenue and Coates Street.

Letters were sent by the Council to certain households asking if they wanted a wheelie bin. They needed to respond by 10 September. The date for the roll-out of the wheelie bins to those households that agreed to the trial is not confirmed at this stage, but looks like it will be this month. Full implementation, if the trial is successful, may not start until March next year.

TAWA LIONS CHRISTMAS PARADE
This year's Tawa Community Christmas Parade will take place on Saturday 4 December at 2pm.

As in previous years the parade will start at Tawa School grounds,

proceed up the Main Road to Surrey Street then back along Oxford Street to Tawa School. Floats, bands, vintage cars, clowns and fairies, community groups, retailers, sports clubs and anyone else wishing to have a presence in Tawa's Parade can participate.

Tawa Lions would love to hear from enthusiastic community groups who wish to be part of this fun parade. Anyone wanting further information can contact either Mike Baker 232 6406 or Ken Coad 232 2475. We would especially like to hear from Tawa children who would like to participate and dress up on the day in clowns and other fantasy costumes. Kids up to 12 years old would be most welcome to contact Tawa Lions so they can be part of the event.

Tawa Lions could not be involved with this annual event without the support of Mexted Motors, Tawa School, Mana Community Grants Foundation and the Wellington City Council, all of whom contribute funds and/or services, plus all the local volunteers on the day who ensure everything runs smoothly.

TAWA SCHOOLS' & COMMUNITY FESTIVAL PICS
Photos of "Tawa Goes to Town" 2010 can be seen at www.tawalink.com/tmf2010.html
Photos of the Sunday rehearsal are at www.tawalink.com/tmf2010_rehearsal.html

"2 MINUTES WITH ..."
If you're interested in knowing about other people in this community, there are brief profiles of almost 20 different Tawa people on the TawaLink website. Someone new will be added to this page each week. See www.tawalink.com/tawa_people.html

WHAT'S NEW AT THE TAWA COMMUNITY CENTRE
Lunchtime sessions with Corrina - mini facials, hand spas, make-up - $5 per session . Wednesdays 12 noon to 1pm

Fight Times - Self Defense classes
Fridays 5pm to 7pm (fee applicable)

Ear Health Clinic
Wednesdays fortnightly 10am to 2pm - appointments 0800 327435

Line Dancing - beginners welcome
Fridays as from 1st October - 11am to 1pm $5

Tawa Art & Craft Expo hosted by Tawa Art & Craft Society
Saturday 9th October 9am to 4pm - stalls, demonstrations, workshop
(This information has been forwarded to the writer of this newsletter who has no direct involvement with the community centre) .



Adios


Malcolm Sparrow
On behalf of TawaLink.com
info@tawalink.com
http://www.tawalink.com
232 5030 A/H or 027 232 2320



"Some see the glass as half-empty, some see the glass as half-full. I see the glass as too big." - George Carlin

"Teenager with nose ring, baggy clothing and spiked hair to friend: I don't really like dressing like this, but it keeps my parents from dragging me everywhere they go."

"I occasionally get birthday cards from fans. But it's often the same message: They hope it's my last." - Al Forman (former MLB umpire)

.




This page is emailed as a community newsletter to more than 900 Tawa households, businesses, schools, churches and clubs/groups (anyone who has an interest in the community of Tawa) every month or so. If there's anything you'd like to include in the next newsletter, please let us know. If you do not already receive the newsletter by email and would like to do so, please contact us at info@tawalink.com requesting that your name be added to our list.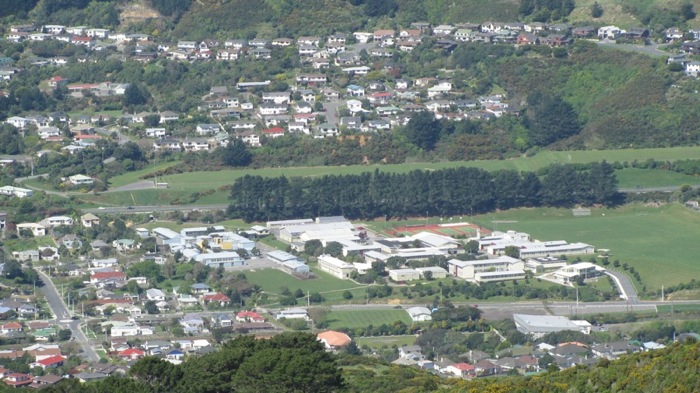 View from Colonial Knob showing SH1 running from left to right across middle of picture, with Tawa Intermediate and Tawa College immediately below. Above the pine trees are the college's top sports fields. At top of picture is Woodman Drive. Towards bottom is Duncan St with Tawa Pool bottom right, and McLellan St bottom left.
2 October 2010. [Click on pic to enlarge]