New tiles on the Library
Saturday, February 26, 2005
The official unveiling by the Mayor, Kerry Prendergast, of more than 200 ceramic tiles prepared by Tawa Intermediate students and mounted on the outside wall of the Library took place recently. This was a project sponsored by Tawa Rotary to celebrate the centenary of Rotary International. The tiles depict a wide range of scenes and life in Tawa. For a detailed report as seen in the Northern Courier, click here.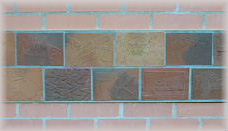 [Click on pics below to enlarge]
The photos above show speeches being made by representatives of Tawa Rotary, the Tawa Intermediate teacher who oversaw the project along with some of the students whose tiles are featured on the Library wall, and the unveiling of the plaque by the Mayor.