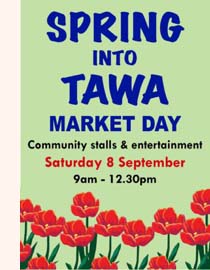 "Spring into Tawa" Market Day takes place in the vicinity of Tawa Plaza and the Main Road shops each September. It's an occasion for the community to come out to spend up large at the many and varied stalls, and to enjoy the entertainment on offer.

The weather in the days leaving up to this year's event had been rather miserable with rain and strong winds. Because the forecast for the Saturday wasn't much better, we made the decision to go to our "wet weather plan" which was to move a certain number of stalls inside the new supermarket complex. The rain stayed away mostly but the inclement weather meant that the Red Hackle Pipe Band made the decision to cancel their performance. Fortunately a good crowd turned up to support the 60+ stallholders.

Entertainment was provided by students from the NZ Radio Training School 'hosting' the event, Tawa Music Festival singers performing two items in advance of the "Tawa Goes to Town" concert at the Michael Fowler Centre three days later, dancing girls from the Hayley Johnson Academy of Dance, Harry the Clown, Geronimo Stilton and Morris Dancers. The local Fire Brigade had vehicles parked across the road and a couple of police officers mingled with the crowds for a considerable time.

Our thanks go to all those who participated in any way, including the many stallholders and the hundreds of customers who purchased their wares. All up, another very successful occasion.